April 29, 2020
Given the current COVID-19 pandemic, the national NORML team is working remotely in compliance with CDC guidelines. However, the work of reforming our nations failed marijuana laws are not suspended therefore we're sending you the below action alert regarding policy efforts in your state. We encourage you to read our post about our efforts and best practices for the cannabis community during these trying times.
Earlier this month, NORML and its national network of advocacy chapters released a memo providing guidance for how state officials can take emergency actions to better promote the health and welfare of cannabis consumers and the general public during the COVID-19 pandemic.
We need to make sure these policy recommendations become reality.
Can you help?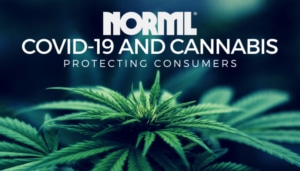 Here in Arizona, 14,971 individuals were arrested for marijuana possession in 2018. The penalty for possessing any amount of marijuana is a felony punishable by jail time and a maximum $150,000 fine.
Because of the unique public health threat that we are now facing, one that is exacerbated by close physical contact among those infected, NORML recommends the following immediate policy changes:
Deprioritize the enforcement of criminal and civil violations specific to nonviolent marijuana-related crimes in order to reduce non-essential interactions between law enforcement and otherwise law-abiding members of the public;
Withdraw all charges for those currently facing prosecution for nonviolent marijuana-related offenses in order to reduce non-essential interactions between members of the judicial system and otherwise law-abiding members of the public;
Review and release currently incarcerated individuals who are either in jail or in prison solely for the commission of a nonviolent marijuana-related offense;
Review and waive all pending probation requirements for individuals who have solely been convicted of a nonviolent marijuana-related crime.
Urge Gov. Ducey to deprioritize marijuana enforcement to protect public health during the COVID-19 crisis
And because we all do better when we all do better, make sure to share our action alert through your networks so we can drive up the pressure!
Click here to share on Facebook
Click here to share on Twitter
Thanks for all you do,
The NORML Team
Eric Altieri, executive director, Paul Armentano, deputy director, Justin Strekal, Political Director, Carly Wolfe, program coordinator